For applicants to be considered in the most recent round of funding, they needed to show that their R&D projects focused on developing one technology or product for use in off- and weak-grid settings and clearly identifying a significant real world benefit that they will bring to lives of targeted users.

An indicative list of the technologies considered for this round are listed below
Cross-cutting horizon and enabling technologies
These are early stage technologies which may be disruptive to existing dominant appliances. These technologies may create opportunities to leapfrog in terms of efficiency or cost, with implications potentially for a whole range of products:
Lower cost Brushless DC motors
Advanced electric cooking
Advanced refrigeration technologies
Connectivity & Internet of Things (IoT) e.g. as a catalyst for improved appliance performance or affordability
Interoperability & compatibility of off-grid appliances and other components
Agricultural processing
Near-to-market products
These are existing products for which demand is strong and clear, but efficient products are only available in low volumes and at relatively high cost. R&D projects that focus on these near-to-market products must clearly show the potential to significantly accelerate their availability, affordability, efficiency or performance: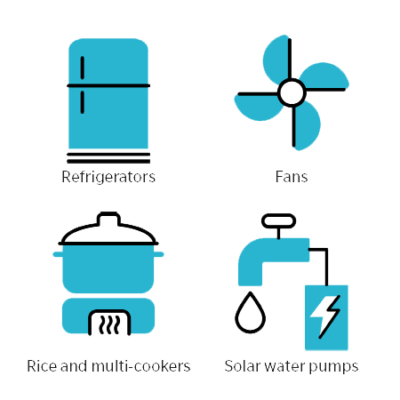 Some examples of potential R&D needs identified through EforA's Low Energy Inclusive Appliances technical working groups thus far include:
System design cost and efficiency optimisation and modelling
Efficient motors
Improved mechanical reliability
Improved local reparability
Modularity/interoperability of components
A universal/interoperable PAYG platform
Power supplies that can interpret the needs of both supply and demand ends
Improved saline water tolerance of solar water pumps

If you have any questions about the most recent round of funding or if you have any general queries please email [email protected]

To be able to apply please register your organisation first via the link below.

Click here to download the full application guidance document