Current Efficiency for Access Coalition members have programmes and initiatives spanning three continents, 44 countries, and 22 key technologies.

Efficiency for Access first kicked off in 2015 as a year-long call to action and collaborative effort led by Global LEAP & Sustainable Energy for All.

Now, fifteen organizations have joined together under a scaled-up Efficiency for Access – a coalition promoting energy efficiency as a potent catalyst in global clean energy access efforts. Coalition programmes aim to scale up markets and reduce prices for super-efficient, off- and weak-grid appropriate products, support technological innovation, and improve sector coordination.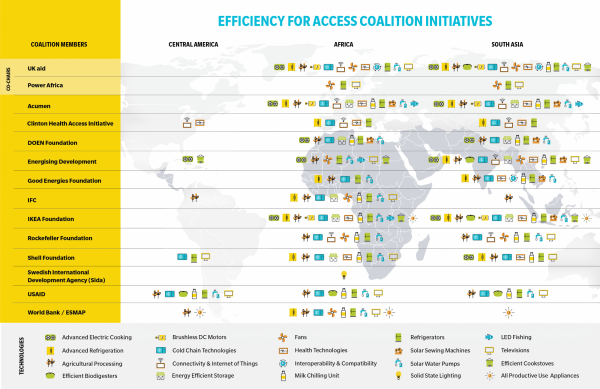 Efficiency for Access is recruiting new members active in the clean energy access sector, especially those with intersectional interests in health, agriculture, and gender.

Donor Roundtable Partners - leverage co-funding and guide programmatic activities
The Secretariat - coordinates across all stakeholders
Investor Network - coordinates investment activities related to appliances in the energy access sector
Programme Partners - support and execute specific Coalition activities and initiatives
Industry Partners - provide input on technology road-mapping and research activities
Download our latest factsheet to learn more about the Coalition and its programmes. Express your interest and learn more about how to get involved.
The Efficiency for Access Coalition is coordinated jointly by CLASP, an international appliance energy efficiency and market development specialist not-for-profit organization, and UK's Energy Saving Trust, which specializes in energy efficiency product verification, data and insight, advice, and research.
Current donor coalition members include: